Babysitting platforms and start-ups are scrambling to switch to screen-based child care. Experts say it can work for short breaks.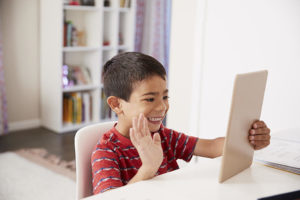 After two weeks of remote learning, San Francisco-based pop-up store owner Mary Graf was struggling to home school her 6-year-old daughter. "She would just look at me and say: no, I'm not going to do the work," Graf recalls. "And I would ask her, Would you talk to your teacher like that?" Her daughter would sheepishly answer no, but it was still a challenge to engage her.
So Graf and another mother devised a plan: The two families would hire one of the girl's former preschool teachers to help with some of the schoolwork with the two girls. That way, they could see each other every day in a small group — and the parents could get a break. Three mornings a week the teacher does an hour and a half of virtual babysitting: a writing exercise, yoga and a math lesson.
"It's really been a godsend, because I can get work done or fold some laundry," Graf said. "If I am leading distance learning, I have to sit next to her the whole time." Graf also pays her regular after-school nanny to spend virtual time with her daughter for about an hour every afternoon doing story time or pretend play.
While child care centers and schools are shuttered, interest in virtual sitters is surging — whether they are stand-in home-school teachers, professional babysitters or a grandparent holding a virtual tea party. New companies are creating platforms for caregivers to interact with kids virtually, and established services have added options to book onscreen babysitters.
Of course, virtual babysitters can't change a baby's diapers, tuck a preschooler into bed or chase an unruly toddler around the house. But screen-based caregivers can entertain kids and give parents short breaks. Several companies that connect parents with caregivers — Care.com, UrbanSitter and Sittercity — now offer virtual services, often at a lower rate than live babysitters. New start-ups are also targeting parents who need short breaks and want to give enriching experiences to kids.
Elizabeth Harz, SitterCity's chief executive, says the site has seen an influx of out-of-work coaches, teachers, college kids and day care employees interested in virtual work with kids. She says most virtual bookings happen when both parents are working. They also offer virtual sitters to play games or read stories to kids in the evenings while parents eat dinner together or have a drink in the backyard. "Kids are missing all the people and activities in their lives," she said. "Although they are loving all the time with Mom and Dad, the chance to see another face and be entertained is really welcome."
Urbansitter says its babysitters and nannies have reported an 84 percent drop in business since states began shelter-in-place recommendations in March, leading them to online teaching and tutoring or to file for unemployment. Nearly three quarters were interested in jobs entertaining kids over video chat and a third of them were willing to work at a lower rate.
Virtual babysitting works best in small amounts of time, usually half an hour to an hour, says Lynn Perkins, the chief executive of UrbanSitter. And parents should be nearby — at least within earshot of the child. She adds that remote sitting also tends to work best in the mornings, when kids are rested and fresh.
Focusing on special talents and interests may be a natural way to engage an older child over a screen. Screen Sitters, a Santa Monica-based start-up, is hiring virtual babysitters who have specific skills, like being able to talk and play games about sports, or dinosaurs, or math. Peter Szabo, who co-founded the company, says he was motivated by self-interest: He needed a break from his two sons, ages 3 and 6.
Szabo quickly saw that his younger kid couldn't sit still for FaceTime sessions with his grandparents, but the older boy could pay attention with a stranger on a screen — as long as the topic was interesting. The company focuses on connecting kids ages 6 to 12 with sitters who can interact with a child's interests for 30 or 60 minutes at a time.
Erin Upton, a Washington, D.C.-based consultant, has seen her 3-year-old develop a relationship with a handful of virtual sitters she hired from UrbanSitter. Upton hires a virtual sitter for two hours every weekday morning and occasionally an hour in the afternoon, for $15-17 per hour. "It's lowered our stress levels by allowing my husband and me to work at the same time without having to turn on the TV for our preschooler," she says. "Our son is in a great mood after talking to his sitters because they engage him in pretend play."
It hasn't all been easy though. Upton says her preschooler's attention quickly fades when a sitter waits for him to take the lead or asks him what he wants to do. "The opposite is true for him with in-person babysitting, so there's been a learning curve for us to figure out what works." It also doesn't work well if he's not rested or doesn't sleep well, she added.
Doing an activity — reading a story, creating a craft or playing a game — over a screen still engages kids' imaginative play, says Arthur Lavin, M.D., an Ohio-based pediatrician who leads the American Academy of Pediatrics' committee on social family health. Dr. Lavin says as long as the child is able to communicate well and is interested in the person onscreen, virtual babysitting can work.
"The burden is more on the babysitter than on the child," he explains, adding that the virtual sitter has to be more prepared and care about what the child will click into.
"If you think about it, this has been going on for a while — families who don't live in the same town or even the same country or the same continent using Skype and FaceTime," he said. "Even very young kids will connect with grandparents on a screen because there's a reciprocal relationship going on."
Kimberly Sloan, a San Diego-based life coach and mother of a 2-year-old, posted on a babysitting platform for a virtual sitter. She's dubious, though. A recent video call with her daughter's day care, which the toddler had been excitedly looking forward to, didn't go well. When it was her turn to talk, her daughter ran away from the computer, sending Sloan running after her. She eventually bribed her daughter to get back on, but her kid soon banged on the computer keyboard, causing the conference window to be minimized on the laptop. "That all happened in a span of maybe five minutes," she said.
Looking online at various qualified babysitters, Sloan found that most did not have experience in virtual babysitting. "As a parent you're kind of looking for the feeling of — I know how to do this; I got you," she says. "I haven't experienced any sort of platform that has got this dialed in yet."
Written by: Katharine Gammon
Source: https://www.nytimes.com/2020/05/07/parenting/online-virtual-babysitters.html
Here are some more tips on how to keep your child involved at home! Click here!
Categorie
Seguici sui social