Experts have identified common hazards in the home and what can be done to prevent accidents.
As stay-at-home orders continue and summer approaches, parents and caregivers will need to be more aware than ever of accident risks in the home. "More children spending more time staying at home and in the backyard means more needed supervision by parents who may be distracted by teleworking and caring for other family members," said Joe Martyak, director of communications for the Consumer Product Safety Commission. "In this situation, kids' exposure to risks goes up more than usual."
The summer is typically a dangerous time for children. According to the Centers for Disease Control, 40 percent of all unintentional injuries among newborns to 19-year-olds occur between May and August. We consulted safety experts about hazards in and around the home and how best to prevent accidents this summer.
Electrical Outlets and Cords
There is more to electrical safety than just installing outlet covers. Another important aspect of keeping children safe is managing electrical cords, said Kellee Senic, a director at Safety 1st, which makes child safety products. "If a cord is loose, a child could bite it or think it's a toy, or they could strangle themselves," she said. Adults can install cord shorteners and covers and also store phone, tablet and computer chargers out of reach of children.
Windows
The Consumer Product Safety Commission considers windows one of its five hidden home hazards. The agency estimates that falls from windows result in an average of about seven deaths annually to children age 5 or younger, with an estimated 3,000 children in that age range treated each year in U.S. hospital emergency rooms. "Screens keep bugs out; they don't keep children in," said Martyak. Window screens are not adequate to prevent falls, so if there are children under the age of 5 in the home, install window guards or stops. Martyak also warns against placing furniture that children can climb on, like chairs, cribs or playpens, near a window. Cords on blinds and curtain tiebacks pose a similar strangulation hazard to electrical cords, and safety experts recommend cordless window coverings styles with inaccessible cords. When buying window coverings, look for the Window Covering Manufacturers Association's "Best for Kids" designation, which identifies window covering products that are safe for use in homes with young children.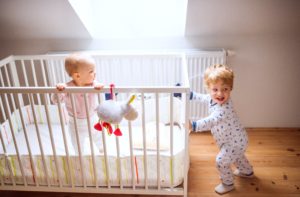 Unanchored Furniture
Top-heavy furniture like bookcases, TVs or even ovens present a tip-over threat to children when not properly anchored to the wall or secured with brackets. In addition to anchoring TVs and furniture, install stops on dresser drawers to keep kids from pulling them all the way out, and store heavy objects on lower shelves or in lower drawers. Avoid leaving things like remote controls, toys or other enticing items in places where kids can see them and injure themselves trying to get them.
Indoor Water Safety
Emily Samuel, a program director at Safe Kids Worldwide, said that water safety is especially important in the home. "Make sure that caregivers are watching children when they're in or around water without being distracted, and make sure to keep young children within arm's reach of an adult."
When it comes to bath time, Samuel said that parents or caregivers should gather items such as towels, soap and bath toys beforehand, so as not to leave young children unattended to grab something that's missing.
Outdoor Hazards
"Supervision is also important when it comes to backyard pools, whether they be small kiddie pools or larger in-ground or above ground pools," Samuel said. But water safety isn't limited to pools. "Items like large buckets, that may be in the home or outside the home, can collect water and pose a drowning risk to children," she said.
Samuel points out another outdoor hazard: the car. Children can easily get into an unlocked vehicle, including the trunk of the car, and accidentally lock themselves in. A vehicle heating study conducted by Jan Null, a meteorologist at San Jose State University, showed that the interior temperature of a parked car increased an average of 19 degrees over the outside temperature in just 10 minutes. Parents should make sure to lock the car, including the trunk, when not in use and keep keys and remote entry fobs out of children's sight and reach.
Medicines and Cleaning Products
Leaving medicine and cleaning products unsecured poses a poisoning risk to children who may easily mistake things like pills or laundry detergent packs for candy. Martyak said that many people have started leaving bottles, cans and canisters of disinfectant products by the front door for easy access when coming in and out of the home.
These items should not be left out for the sake of convenience. All medications, cleaning supplies and things like glue or paint used for home improvement or crafting projects should be locked up or stored out of reach of children.
Parents and caregivers should save the number for the poison helpline in their phones: 800-222-1222.
In Italy, there are several reference hospitals which have a Poison Control Centre (CAV). Further information is available on the website of the region to which you belong.
Choking Hazards
Cords aren't the only choking hazard in the home — small objects like game pieces, coins and magnets are common in choking incidents. Choose toys that are age-appropriate and make sure toys for older children are stored out of reach of younger children.
Samuel suggests surveying your home from a child's point of view to identify hazards. "Children are naturally curious and reach developmental milestones at different times. So it's important for families to look at their homes from their child's point of view and remember that there are different things they need to consider as children continue to grow."
Kitchen Safety
The kitchen presents many safety challenges, from appliance tip-overs to broken glass to slip-and-fall accidents. But burns present the biggest risk of injury for kids, Senic said.
"To prevent hot food or liquid spills, use the back burner of your stove and turn pot handles away from the edge," she said. Avoid holding or carrying a child while cooking. Senic suggests moving a highchair into the kitchen, within reach or sight of an adult. And don't forget the microwave. Burns can happen when something hot spills or when dishes get hot and children handle them.
Di Jolie Kerr
Categorie
Seguici sui social